Vatican secretary of state to visit Cuba early in 2008
Submitted by: admin

10 / 13 / 2007
---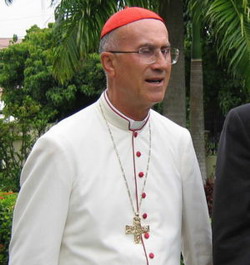 The Vatican's secretary of state will visit Cuba early next year.

Vatican sources confirmed that Cardinal Tarcisio Bertone would travel to the communist island nation and possibly pay a visit to its ailing leader, Fidel Castro.

Though it will be the first time he visits Cuba as the Vatican's No. 2 official, Cardinal Bertone traveled there and met with Castro in 2005 when he was the archbishop of Genoa, Italy.

While Vatican sources did not have definitive dates for the cardinal's trip, other than occurring "at the beginning of the year," news agencies predicted the visit might coincide with the 10th anniversary of Pope John Paul II's Jan. 21-25, 1998, pilgrimage to Cuba.

< In his 2005 meeting with Cardinal Bertone, Castro paid tribute to the late pope as a "prophet of peace" and said he was favorably impressed by Pope Benedict XVI.

Castro said Pope Benedict had the face of "a good angel" and would be welcome to visit Cuba, according to Cardinal Bertone.

The cardinal said Castro praised the local church's social efforts, saying that when it comes to working among the poor and needy "the church is ahead of all of us."

Relations between the church and the Cuban government have had ups and downs since the revolution that put Castro in power in 1959.

Pope John Paul's historic visit to the island lowered the tension, although there has been little progress on several of the church's demands, such as access to state-controlled media and education.

During his visit, the late pope also criticized the U.S. economic embargo, which for the past 45 years has virtually prohibited U.S. companies from trading with Cuba.
Source: By Carol Glatz, Catholic News Service
---
Related News
---