Biodiversity and phytosanitary problems to be discussed in Havana at the Symposium on Tropical and Subtropical Fruit Growing
Submitted by: admin

09 / 18 / 2007
---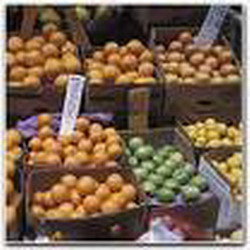 About 200 experts from 16 countries meet in Cuba this week to debate the trends in fruit growing and reach consensus on that important branch of agriculture.
We want to promote broad exchange among researchers, the productive sector and decision makers, Jorge Rolando Cueto, general director of the Institute for Research on Tropical Fruit Growing (IIFT) and organizer of the forum, told Prensa Latina.
The Second International Symposium on Tropical and Subtropical Fruit Growing that opened on Monday will be held until Sept. 21 at the Hotel Nacional de Cuba.
The meeting is sponsored by the IIFT and the United Nations Industrial Development Organization (UNIDO).
Experts from Brazil, Mexico, Venezuela, Colombia, Spain, Canada, Nigeria, Guatemala, Oman, Costa Rica, Chile, Israel, Martinique, the United States and the Dominican Republic have confirmed participation in the symposium.
The meeting is aimed at solving concrete problems that affect agriculture in the region, especially biodiversity and phytosanitary problems, Cueto added.
Meetings of the Inter-American Citrus Network and the Latin American Fruit Network, of which Cuba has been the general coordinator since 1994 and 1998, respectively, will be held parallel to the symposium.
Source: Prensa Latina
---
Related News
---